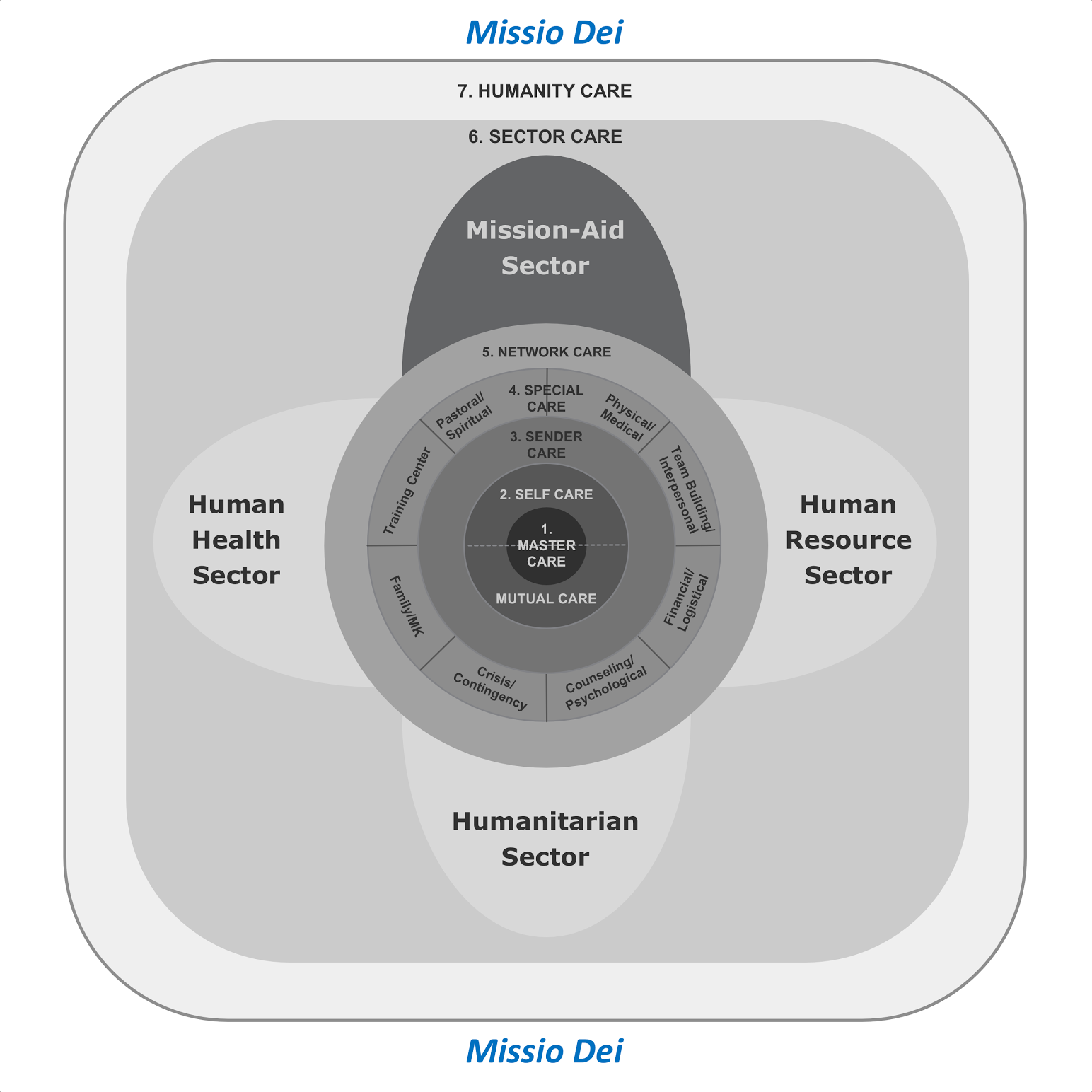 Member Care in the Multi-Sectoral Context
Examples to Support Your Work in Member Care and Mission
What is Multi-Sectoral Member Care (MS-MC)?
–MS-MC involves mutual learning-support-resources from connecting and contributing across sectors (e.g. humanitarian sector, health sector, development sector, etc.). How do other sectors promote the wellbeing and effectiveness of their staff?
–MS-MC involves staying informed about the work of organizations and colleagues in different sectors as they seek to promote human-planet wellbeing and address major issues. How can their work inform and support member care and mission?
See: Charting Your Course through the Sectors (O'Donnell, 2013), including the section "Lessons Learned: Ten Practical Examples for Good Global Practice" (what we have learned as member care practitioners from the humanitarian sector).

–Also have a look at the resources in: the Updates section for Global Member Care (Volume Two), the  Featured Materials section on this website, Multi-Sectoral Member Care: Engaging Our World as Global Integrators (Kelly and Michele O'Donnell, Journal of Psychology and Theology, December 2016—see summary model at the end), and Multi-Sectoral Member Care (Member Care Update, August 2018).
MS-MC Examples:
–Resources from People in Aid–PIA (http://www.peopleinaid.org/resources)
(Note–PIA no longer exists–link above goes to the Core Humanitarian Standard Alliance–see their list of resources related to staff wellbeing HERE)
–Headington Institute (e.g., training modules; http://www.headington-institute.org/overview)
–Families in Global Transition–FIGT (http://figt.org/Default.aspx?pageId=1114038)
(June 2025–75+ books from FIGT members HERE)
–Intercultural Press (http://nicholasbrealey.com/boston/subjects/interculturalpress.html)

—Living Our Values: Care, Culture, and Power in Aid Organisations
Core Humanitarian Standard Alliance (20-21 May 2021, free online event)
—Leading Wellness: How to Empower Healthy, Happy, and Productive People
DisasterReady, Resource Library/Course (free e-book, 30 minutes, register to access)
—Toolkit for the Integration of Mental Health into General Healthcare in Humanitarian Settings (2018) International Medical Corps
—Where There is No Psychiatrist: A Mental Health Care Manual (Second edition, 2018) Vikram Patel & Charlotte Hanlon—mhGAP Intervention Guide for mental neurological and substance use disorders in non-specialized settings (2016), WHO—Staff Well-Being and Mental Health in UNHCR (2016), Suzik, D., Thomas, R., Lachens, L., & Mihalca, L.
—Workplace Stress: A Collective Challenge (2016) International Labor Organization
—One Humanity: Shared Responsibility (Feb 2016), UN, World Humanitarian Summit)—Health, Healing, and Shalom…Christian Health Missions (2015), Bryant Myers
—Ending Extreme Poverty: A Moral and Spiritual Imperative (2015) World Bank
—Faith-Based Health Care (7 July 2015) The Lancet
—mhGAP Humanitarian Intervention Guide: Clinical Management of Mental, Neurological, & Substance Use Conditions in Humanitarian Emergencies (2015), WHO

—Transforming Our World: The 2030 Agenda for Sustainable Development (2015), UN
—World Development Report 2015: Mind, Society, and Behavior (2014), World Bank
—Humanitarian Effectiveness and Staff Wellbeing (webinar 30 July 2015; archived)
—White Paper on Peacebuilding (2014), Geneva Peacebuilding Platform
—Preventing Suicide: A Global Imperative (2014), WHO
––Living with a Black Dog and  I Had a Black Dog (2013) creative videos on depression)
———-
Note:
We edited Crossing Sectors for Serving Humanity (2013), volume two in the Global Member Care series, with five goals in mind (see below). Underlying these goals is the ongoing process of mutual learning, exchanging resources, and building relationships as we connect and contribute broadly and relevantly. The developing Global Integration framework was a key influence in the MS-MC focus of this volume and our work.
To support mission/aid workers in their well-being and effectiveness
To support colleagues in other sectors via materials in the member care field
To equip mission/aid workers with tools and opportunities for their work with others
To equip member caregivers who directly work with vulnerable populations and others
To stay informed as global citizens about current and crucial issues facing humanity.